This post is sponsored by Travelstart.
I spoke to someone recently about honeymoons – she got married last year but couldn't go on a honeymoon yet. Her and her husband's work schedules clash a bit, so there's not really time for them to be off a few days.
This conversation took me back to my own honeymoon – if you can call it that. I was living in Port Elizabeth and Husband (then boyfriend) lived in Johannesburg when we got married in Cape Town. We got married in Cape Town because it's where both of us grew up and most of our family and friends live there.
Anyway, our honeymoon was a roadtrip from Cape Town to Port Elizabeth. As you have guessed, we had a low budget, so we didn't plan on booking a guesthouse somewhere exotic nor holiday destination. We stopped where we wanted and this included visiting friends in Sedgefield.
Looking back, I realise that it's very important to know what your partner likes or dislikes when it comes to doing a holiday or even a honeymoon. It's like knowing your partner's love language. My husband is a socialite, so if I can include hanging out with friends and family on the trip, or meeting new people, he will be happy.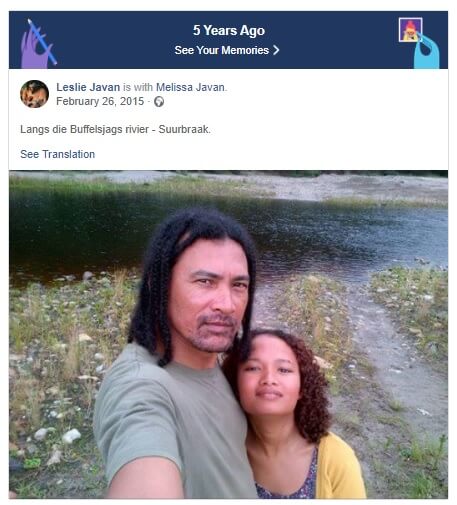 DECIDING ON A QUICK ANNIVERSARY ESCAPE
Our wedding anniversary is on 14 December – we got married in 2013. Here's a few options I'm considering:
Option 1: A closeby guesthouse
Husband also wouldn't want to be somewhere uncomfortable – meaning, he would not go camping or be somewhere if it means sleeping on the floor. He prefers a guesthouse with a comfy bed. Most likely we wouldn't share a tent or room with someone, because he cannot stand other people's noise (e.g. loud music or snoring).
Option 2: A massage
Believe it or not, I think my husband likes to be pampered so he'll love a massage. Well, he's gone to massages and he's always asking me for a massage, so this is a no-brainer. It has to be somewhere outside of the city though.
Option 3: A roadtrip
Both Husband and I love nature, exploring cultural activities, people and learning new things. So, because we are planning to visit the Northern Cape later this year, I have Googled "Travelstart Things to do in the Northern Cape".
I came across the blog posts "10 Lesser Known Small Towns and Hidden Gems in Southern Africa You've Never Visited, But Probably Should" and "11 Of The Most Offbeat Attractions Around South Africa".
Here is a bucket list of things I think we'll enjoy on the trip:
– Do a hike in the Richtersveld National Park or Augrabies Falls National Park
– Go on a cultural experience
– Mail a letter from the giant post box in Calvinia (this one just looks like it could be a cool Instagram post)
WHY WE LOVE ROAD TRIPS
We'll probably choose option three because this way we can visit my parents and if we do the hiking, for example, our toddler can stay with the grandparents while we go on our trip. I also prefer having a long-term financial goal (planning and saving money for a few months in advance) that involves my family, especially my parents. Plus we love the long road.
– I prefer to save money for a road trip that is a week (or more) long rather than doing an one- or two day trip.
– Personally, we love stopping for breakfast or a snack at a local padstal, where you'll find colourful signage posts and lekker biltong or homemade cookies and bread. Oh, the bread… Yum!
– We love seeing the different landscapes – the fields and trees of Johannesburg looks different to the rocky, dry fields of the Northern Cape, or the Karoo.
– You get to see a lot of small businesses and factories and say "oh this is where we get our eggs from" or "this is where we get our raisins from".
– The accents of other people or just the way the have conversations are nice to listen to – well, at least for myself and Husband, perhaps it's because we are both writers that we enjoy this.
Do you like road trips or do you prefer a quick one day trip? Let me know in the comments below