I remember one day shortly after my child started standing on her own feet (literally), I was watching her – her looking in thought and playing with something. I stopped her by saying loudly: "Girly, what are you doing?"
She looked like I caught her doing something badly and her thoughts were scattered, interrupted. For me at first it was a bit funny.
My husband said that I shouldn't interrupt her like that. It made me think how right he was.
I then realised how different each of our personalities are and how we should respect each other – no matter how old we are.
The thing is, even if my child is naughty – I should allow her to explore by herself. Well, at least that's the lesson I got from that day.
[I hardly ever write about motherhood on my blog, but recently I read a post from The Don Father. He writes of how his family life changed in the last 18 months. I resonate with this blog post, because my child was 18 months old – she is now 19 months old. He spoke of how his daughter is fearless (like mine) and let's go easily. You can read more of it here. This post prompted me to write a bit about my motherhood experience.]
My husband, a musician has a different, calm way of dealing with Princess (sometimes known as Girly by me).
He told me the other day of how she pushed the chair next to the sink (it's a plastic chair) and she climbed on top of it, standing next to him while he was doing the dishes. He allowed her to do the dishes with him. Well, to play with the bubbles – he says she washed one tupperware bowl the whole session.
I know I wouldn't allow her to do this, because firstly she might fall into the sink, and two she might try to wash the dishes when I'm not around. [Update: Princess can walk, or rather skip around the house – she likes to run or do skipping. She also climbs on things like chairs (or me) to find things we want to keep away from her, like the car keys for example.]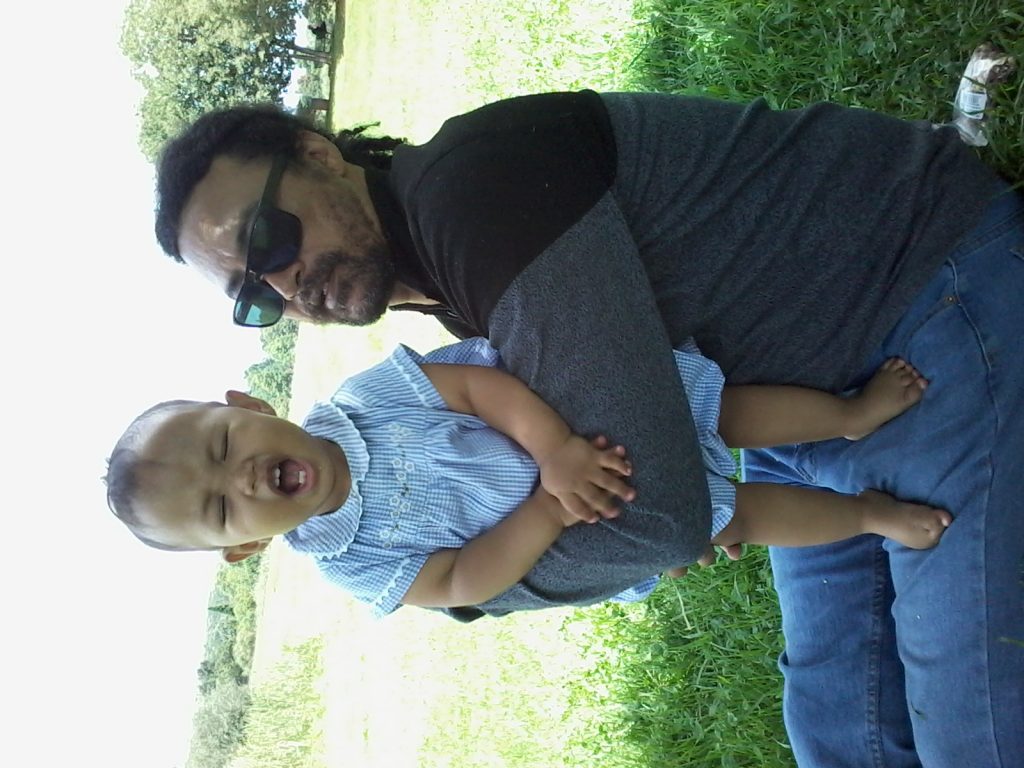 I admire Husband for doing these things and for talking calmly. Me, I like to shout. My child's favourite words to me are "Stop it, stop it" and "No, no, no!" I wonder where she gets it from…
I have found myself to do less shouting when Princess is being naughty. I talk calmly and tell her why what she doing is wrong. I try to do this so that Princess won't get stressed out like in the moment I told you about earlier.
Yes, she throws tantrums and if she does not get her way, she'll throw something on the floor. It's normal toddler behaviour. She also runs away if she sees me catching her with an object she shouldn't be playing with. If I get hold of her, she throws the object away.
Husband is also the one who allows Princess to do gardening – every day they go to the plants we have outside and do gardening.
It's something I wouldn't have thought of doing. Initially, I'd be too scared that my child could hurt the plants. Ja I know, I'm ridiculous. But I'm learning that children learn as you allow them to learn.
That's why I recently allowed Princess to chew on the onion she found in the kitchen cupboard recently. I could've said "No!" Instead I let her be. I was tired after a long day and I didn't have the energy to be the evil parent. So I let her chew. Eventually she found out she didn't like the taste of the raw onion.
I found that it's okay to let go, sometimes.