Determination.
My definition for "determination" is the following scenario:
My husband went from one store to the next to buy a lottery ticket. Two stores had some kind of lottery machine problem. We got third time lucky at the last store.
Determination means not giving up even if it seems the odds are against you.
WHO OR WHAT ARE YOU DETERMINED FOR?

A few weeks ago, a businessman and myself – we met at a conference – talked about this "bigger vision". He spoke about how he was determined to start his own business, because he wanted to leave a legacy.
We spoke about the competition and the ups and downs that a small business encounters.
Yet, no matter what challenges came, the determination to make his business a success, stayed. It stayed because he had a bigger vision.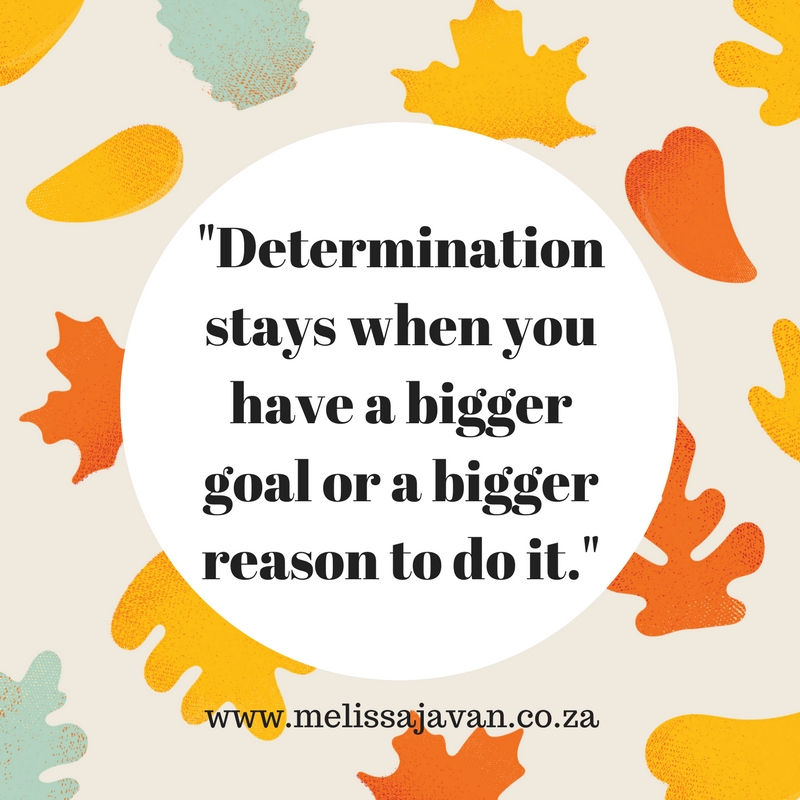 I thought of a lot of things I went through whenever I had a bigger reason behind it.
Like, the time I moved from Cape Town to Port Elizabeth for a job. I probably would have never moved out of my hometown if it weren't for my parents.
I was one of the breadwinners in our household at the time.
Unemployed for a few months and it sucked. I would have probably stuck it out and looked for a job in the Western Cape if I didn't think: I have to do this for my family.
I went to Port Elizabeth to live in a house of a stranger. Leaving my hometown into the unknown, I just had to have faith that the people who said they'd give me a home, were good people. They were.
The choice I made, no matter how hard it was on me, it was worth it.
I remember the first year being away from home, I was so lonely. I became distant.
I had reminded myself of the mantra:
LESSONS LEARNED
Eventually I started seeing the change in my life. I became a better person. I started being grateful for a lot more.
For instance, before I moved from Cape Town, I didn't make much effort to see family and friends.
Moving and working away, changed that.
It was in Port Elizabeth where I learned to finally switch off from work. I used to be in work-mode every waking hour. Somehow I decided one day that it's okay to just relax.
Obviously this change also came after I had become comfortable in my job. The first few months of settling in, is not easy to adjust.
The best thing about being in Port Elizabeth – far away from my comfort zone (my parents) – was learning not to take life too seriously. I was reminded to be open and to accept people for their differences.
I may have my degree in journalism and I'm working in a career I love, but it does not stop here.
I have a bigger dream than this.
And I am pushing to make that dream a reality for myself; it's much bigger. If it were only for me, I probably would give up on this.
What keeps your determination going? Have there been goals you've achieved despite the fact that everything seemed against you?
Thank you for reading!